BIOGRAPHY
Xaros was born on March 3, 1993 in West Germany. His father was Hanno von der Wienerau, SchH3 IP2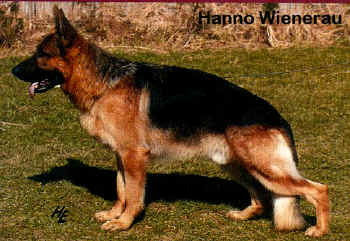 His mother was Gracie vom Godinghofer Weg, SchH3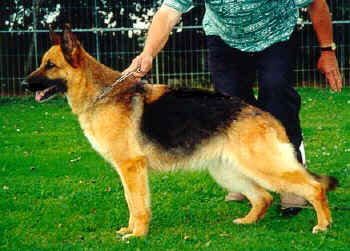 Xaros had several brothers and sisters, including Xoschko.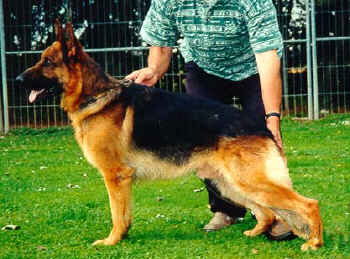 After receiving his Schutzhund training, Xaros left the cool forests of Germany for the hot north Texas weather. I was Chief of Police at Springtown, Texas, and had recently lost my K-9 partner, Meik. Xaros was to become my new partner - as I stated in a newspaper interview, I wasn't hoping to replace Meik; I was getting a new partner.
I picked Xaros up at the Lufthansa terminal on March 27, 1997 (by the way, his ticket from Germany was $700.00). He was 4 years old and ready to take on the world - or at least, he was ready to get out of the shipping crate. He barked and growled at everyone that went near him. I walked up, got a warning bark, then I said his name. He must have thought "Wow! Somebody finally knows me!"
He quieted down, so I moved the crate over to the edge of the warehouse, got a leash, opened the crate, gave him a few commands (Xaros only understood German commands. He learned English phrases, like "Do you want a biscuit?" later) and we trotted off to the grass. My original K-9 trainer always said that whoever lets the K-9 out of the crate after a ride from Germany to America is a friend forever! In this case, he was most certainly correct.
Xaros came home with me and fell into the routine of a police dog pretty easily. He made the front page of the Springtown Epigraph on April 3, his picture almost covering the top fold of the paper. Fame!
Xaros made a few arrests (tracking and searching, no drugs) in the following months; his best was three at once, and he never left the car! Three suspects had run off into a field; I got on the PA and warned them that I was sending a K-9 after them, then had Xaros bark into the microphone. They all three surrendered!
I left Springtown in fall of 1997 and went to work at Wise County Sheriff's Department. Xaros switched titles from "Officer" to "Deputy" and never broke stride. We spent a lot of time at schools, educating young people and doing K-9 demonstrations. Xaros always attended fundraisers and various programs in Wise County; he was always a hit with the kids as he loved the attention. I lost count of the number of times he got his picture in the paper (rarely did I get mine; I guess he is more photogenic).
In the fall of 2002, I retired Xaros from any active calls (he hadn't "patrolled" in a couple of years, but was still available for emergency call-outs). We still made school events and special events, like the "National Crime Prevention Night Out". Xaros is still a hit with the kids!
A Note About "Little Baby"
In late February of 1998 I jokingly told my mother (who was coming to eat dinner with me) that she could bring Xaros's birthday present with her and I would give it to him on his birthday, March 3. I'm sure she had no intention of actually getting a gift until I said something about it, but being my mom, she stopped at the Petsmart pet shop on the way to my house (she lives about 50 miles from me, down in the DFW metroplex) and purchased a little squeak toy, a small hedgehog.
Xaros loved it. I started calling it "Little Baby", as in "Where's your little baby?" and "Go get your little baby." Xaros carried it everywhere; he took it with him in the police car, carried it around the yard, around the house, everywhere! Sometimes, he'd leave it outside, and I'd say "Where's your little baby?". If a dog could say "Oh no, where did I leave him?" then Xaros would have. He'd run around the house or outside until, with a sigh of relief, we'd find him.
Being carried in a dog's mouth has a certain amount of wear and tear associated with it; at first, we'd have to "replace" Little Baby every 3 months or so. I guess Xaros really didn't like the replacing of his buddy, so he's been very careful with the current Little Baby. He's had this Little Baby since Christmas 2001. He was allowed to keep Little Baby with him even while at the hospital.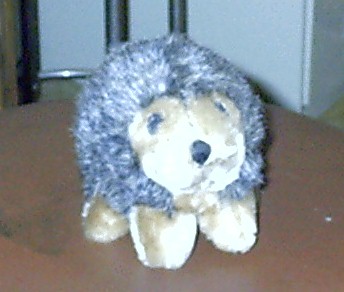 (This site uses frames. If you linked directly to this page from a search engine, please click here to open the main page).