SURGERY
Surgery Day (June 26, 2003)
Xaros was now scheduled for surgery in just a few hours. We worried about blood loss with removal of the spleen, so Xaros was to get two units of blood before surgery just to make sure he had good blood volume.
I was able to stay with him until he went to surgery. He watched everyone in the ICU and tolerated the frequent checks to make sure he wasn't having a reaction to the blood.
A surgical nurse came to get him, and I walked with him as far as I could. I gave him a big 'ol kiss, told him he was a good boy, and he walked into the operating room with the nurse.
Waiting is tough. After a couple of hours, Dr. O'Neal came out and told me everything went well, the spleen was out, and Xaros was in recovery. I would be able to see him in a little while.
When I entered the ICU, I could see Xaros was still sleepy, but he looked good (probably way better than I would look after having my spleen out). He tried to stand up when I came in the room to greet me. I stayed with him for a long while, then decided to let him sleep. I then talked to Dr. O'Neal.
She showed me the tumor, it was huge. During the surgery, they also did a liver biopsy to check for tumor, and examined the other organs. Everything looked good. Now we just have to wait for lab results and let Xaros recover.
Day 1 after Surgery (June 27, 2003)
I called early in the morning and spoke to an ICU tech. Xaros was doing well, was sitting up. I could come visit, so I headed out.
Xaros looked good. Alert and watchful. I brought Little Baby with me, and Xaros took him from me and held him, then put him down near his head. Didn't want to let him go too far.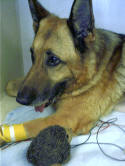 Xaros hadn't urinated on his own, but was making urine. They had to put a catheter in to empty his bladder. He just didn't want to pee.
Dr. O'Neal was busy with another patient, but called me later. The lab results showed that the tumor was hemangiosarcoma. It was cancer and it was malignant. The liver biopsy was normal, as were the rest of his blood work except one item. We talked about chemotherapy and what it would do for Xaros. I wondered about whether or not the benefits of chemo (a few extra months) would offset the side-effects that I had always heard about. I didn't think they would - I thought there would be poor quality of life and I would be putting Xaros through misery.
Xaros tested positive for Rocky Mountain Spotted Fever. Easily treated with medications, but something else to contend with. Another pill to take.
Day 2 after Surgery (June 28, 2003)
Spoke with the oncologist, Dr. Andrew Novosad. The drugs used for chemotherapy do not usually cause the severe side effects we see in humans and are usually well-tolerated in dogs. Usual treatment is five treatments, one every three weeks starting when the sutures come out from the surgery. I'll think about it, trying to rationalize the quality of life issue. Would Xaros want it?
I got to go visit again, and expected to go sit near his cage again. Instead, they walked Xaros out to me (he had Little Baby) and we went downstairs and outside. He still didn't want to pee. He walked around, sniffing, looking at the birds, the trees, the grass, other animals, and just generally had a good time. He laid on the grass and watched people and everything around him. His eyes were clear and bright. I immediately made up my mind about chemo. We would try it.
Xaros was moved to the "big cage" where he could actually stand up and walk around. He jumped up and stood on his hind legs, put his paws on my lap (I was sitting in a chair) and gave me a doggie kiss. He couldn't hold the pose long, but he was trying.
Day 3 after Surgery (June 29, 2003)
Feeling better, getting stronger. Walking around much better, decided it was time to pee. Should be ready to come home tomorrow.
(This site uses frames. If you linked directly to this page from a search engine, please click here to open the main page).