AFTERMATH
Monday, August 25, 3:25 PM
Xaros passed into a better place at around 3:25 PM, August 25, 2003, cradled in my arms. I was softly stroking his face, looking into his beautiful brown, tired eyes and whispering in his ear that I loved him and to be brave. He was. I wept. He finally had no pain and was healthy and whole again. Exactly two months after I took him to the vet and we discovered a lump in his belly. (See the last few entries in Day by Day)
Dr. Williams and his nurse gently placed Xaros in a pet casket. He lay on a satin mattress trimmed in lace and his head was on a little embroidered pillow. I covered him with a satin coverlet and placed Little Baby near his head.
I called Pine Hill Pet Cemetery to come pick up Xaros. I decided to have him cremated, so that his ashes could remain with me in case I ever moved. I didn't want some stranger digging him up in the yard or having him hundreds of miles away. Xaros's favorite toy, Little Baby, would also always be with him.
I called the Animal Diagnostic Center to let Dr. O'Neal and her staff know what happened. She had told me that so often, once the patient leaves her care that she never knows what happens to them. I wanted her to know that Xaros put up a valiant fight.
Brother Ben Larsen came from Pine Hill and picked Xaros up. We carried Xaros to Brother Ben's truck. Brother Ben said a prayer, I said my last good-byes, and Xaros left his home. After I said good-bye, I told Brother Ben that I knew Xaros had already left, and was already playing with Meik, Little Baby, Spike, and all his new friends at the Rainbow Bridge. I was only saying good-bye to the body; his spirit I could still talk to anytime I wanted.
Tuesday, August 26
I've received numerous emails from people all over expressing their sympathy. It is so wonderful to know that there are people that care, and that they care enough to take the time to send their thoughts about Xaros (in many cases, a total stranger linked by the common bond of a love of animals).
The flags at the Sheriff's Department flew at half-mast.

I drove over to the Bridgeport Animal Hospital to pay and they said no. Xaros was a Deputy Sheriff. There would be no charge.
I went to Pine Hill to select an urn and pick-up Xaros's ashes. Brother Ben refused any money also - Xaros was, after all, a peace officer and a public servant. He gave me a beautiful pine urn which he placed an engraved name plate on. It also has a holder for a picture that I'll put in this evening.
I placed the urn carefully in the back of the K-9 car where Xaros always rode and drove home. I took the car back to the S.O. and left it. Since Xaros was the last K-9, the car will have the special K-9 equipment removed and it will become a normal patrol car.
I have received so many thoughtful emails that I had to write about one more day. Thanks to all of you.
I received a beautiful floral spray in memory of Xaros. Thanks to Spike's buddies, the Melton family; I know that Xaros, Meik, and Spike are all playing right now, romping and frolicking at the Rainbow Bridge.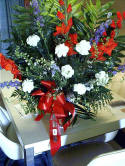 I had told Brother Ben at Pine Hill that I did not want the casket after Xaros had been cremated, but last night I thought about the little embroidered pillow that Xaros lay his head on and decided I would like to have it. I called Brother Ben this morning and he said he would be glad to bring it to me. He brought the mattress cover, the coverlet, and the pillow, all inside a beautiful black velvet draw-string bag with the embroidered words "Until we meet again at the Rainbow Bridge." I'll put some of Xaros's other mementoes in the bag also.
The Wise County Messenger ran an article in the Thursday, August 28, 2003 issue (which comes out Wednesday evening):

Only fitting that Xaros, who had appeared in the newspapers so many times, appeared one last time. While I was eating dinner, the waitress recognized me and commented that last month she had read the article about Xaros when he first got sick and she said she cried. I agreed with her.
I decided to add one more page to this site, "Thoughts". The things about Xaros that I want to remember; the good times, his antics, and snippets about his personality. Things I want to share about Xaros unrelated to his cancer. "Thoughts" isn't a diary like the rest of this site or a log of events. It's just things I thought of that I want to write down and post.
The Future
I don't know what the future holds. I have a giant hole in my heart right now. After a few weeks, I'll give it some serious thought. If I were to get another dog, it will not be a K-9. He'd just be a normal companion, I'm out of the K-9 business (worked the street too many years - let the young kids do that).
I wouldn't mind, perhaps, a puppy from the Godinghofer Weg Kennels, as there would be a relation to Xaros there - a great-nephew, a second- or third-cousin maybe.
When I lost Meik, Xaros filled a big part of the hole in my heart. A new hole has opened with the loss of Xaros. I know that no matter what I do or what happens, I will never forget Xaros and Meik; the holes in my heart will never be completely filled until I visit the Rainbow Bridge.
I still can't believe he's gone. I miss him more each day. I know it will get better, but it hasn't so far. The nights are the worse. So many things remind me of him. He was such a constant and major part of my life.
This website is more or less done. I might add a few "Thoughts" and maybe rewrite a sentence or two, but I'm not making any major changes or additions.
Please email me if you have any questions, comments, or just want to share a thought or two.
Thanks everyone for reading this and caring about a big 'ol fur bag named Xaros.
Randy Joy
August 31, 2003
(This site uses frames. If you linked directly to this page from a search engine, please click here to open the main page).